This NSF funded research project is motivated by rising salinity in the Occoquan Reservoir, a critical water supply for nearly 1 million people in Northern Virginia. VT press release
The project utilizes convergence research approaches to foster shared learning between stakeholders and researchers, with the goal of catalyzing stakeholder-driven management of salt budgets in inland freshwaters such as the Occoquan Reservoir .
As indicated in the diagram below, the project is organized into three teams: (1) a biophysical research team; (2) a stakeholder team; and (3) a governance research team. The intertwining threads represent interactions between the three teams, which occur primarily during quarterly meetings with the stakeholders.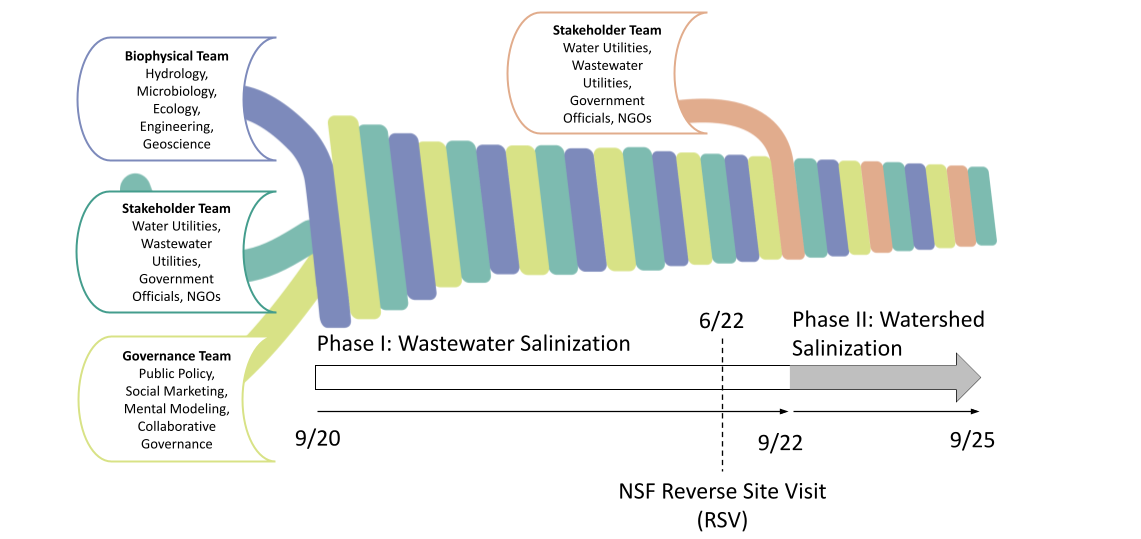 The project focuses on two major causes of inland freshwater salinization: salt released from sewage sources such as household products (in Phase I, 9/30/20 to 9/30/22) and salt released from watershed sources such as deicers (in Phase II, 9/30/22 to 9/30/25). The stakeholder team is part of the Executive Committee on the Occoquan Sewershed (ECOS) during Phase I, and the Executive Committee on the Occoquan Watershed (ECOW) during Phase II. The NSF will evaluate our project (through a reverse site visit, RSV) at the conclusion of Phase I to determine if Phase II will be funded.